A key component of the ShoreTel end-to-end solution
Crystal clear sound, superior ergonomics, the best IP phones for your business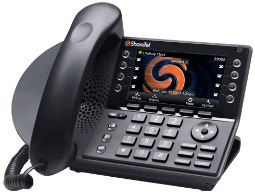 An eight-line phone with a crisp 480 x 272 pixels backlit color display offers an expanded directory with unlimited lookup with sort by first or last names.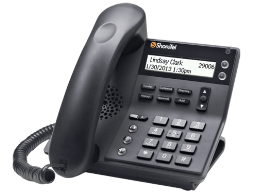 Ideal for break rooms, lobbies, and contact centers, the ShoreTel IP 420 phone features an easy-to-read, high-contrast display and 6 feature keys.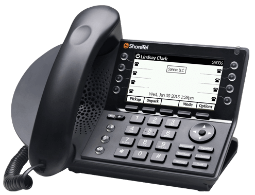 Ideal for general office, the ShoreTel IP 480g provides 8 line appearances with an easy-to-read, back-lit display.
The ShoreTel BB424 has 24 programmable keys that allow up to 96 lines. Users can configure a single button box to display all 96 lines by using the four page keys, or can distribute line assignment across up to four button boxes
Product Specifications — ShoreTel

IP Phones for CLOUD
| | | | | | |
| --- | --- | --- | --- | --- | --- |
| | IP485g | IP480g | IP480 | IP420 | BB424 |
| Functions | | | | | |
| Call appearance | 8 (Tri-color LEDs) | 8 (Tri-color LEDs) | 8 (Tri-color LEDs) | 2 (Single-color LEDs) | 24 Ticolor LED |
| Feature keys | 6 (Transfer, conference, hold, history, voicemail, directory) | 6 (Transfer, conference, hold, history, voicemail, directory) | 6 (Transfer, conference, hold, history, voicemail, directory) | 6 (Transfer, conference, hold, history, voicemail, directory) | 4 Page buttons |
| Soft keys | 5 | 5 | 5 | | |
| Display | 480 x 272 pixels, Backlit, color | 297 x 160 pixels, Backlit | 297 x 160 pixels, Backlit | 130 x 28 pixels Backlit | 272 x 480, color, backlit |
| Speakerphone (full duplex) | LED indicator | LED indicator | LED indicator | Half-duplex, LED indicator | |
| Mute | LED indicator | LED indicator | LED indicator | LED indicator | |
| Volume controls | Handset, speakerphone, headset, alert/rings | Handset, speakerphone, headset, alert/rings | Handset, speakerphone, headset, alert/rings | Handset, speakerphone, headset, alert/rings | |
| Headset compatibility | RJ-22, LED Indicator | RJ-22, LED Indicator | RJ-22, LED Indicator | RJ-22, LED Indicator | |
| Electronic hook-switch control for wireless headsets | • | • | • | • | |
For More Information About IP Phone Functionality